The running joke is that after Dodd-Frank banks have become compliance companies that happen to make loans. It is funny because it is true. Dodd-Frank has over 22,000 pages of compliance regulation. Who can possibly understand and navigate all of that regulation?
There is one company that is widely regarded as the ultimate Dodd-Frank expert. This company is based in Washington D.C. and is hired by every major bank to help navigate these complex regulations. This company is called Promontory Financial Group and it is comprised of the all of the heavy hitters in bank regulation. Check out their firm leadership page, it includes senior leaders from the Fed, Treasury, White House, World Bank, Fannie Mae, FDIC and the OCC. They even have the former Vice Chairman of Citigroup and a Senator that was on the Senate Banking Committee for over 18 years. This firm has the who's who of bank regulation.
Ever since Dodd-Frank was passed, banks have spent big time on compliance. It is a bull market for Promontory, which has helped everyone figure out those 22,000 pages of compliance. In order to put it into perspective, check out this WSJ chart from May 2016: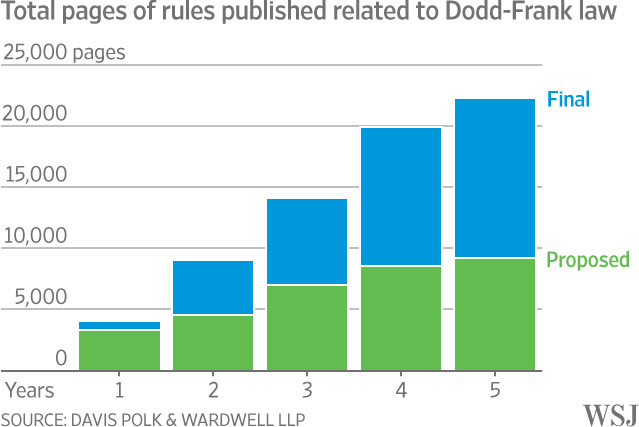 "The six largest U.S. banks by assets in 2013 together spent at least $70.2 billion that year on regulatory compliance, up from $34.7 billion in 2007, according to the most recent study by policy-analysis firm Federal Financial Analytics Inc., which said costs have continued to mount since then."
The smart people at IBM took note of this massive shift in spend and the enormous regulatory problem for banks, they have the perfect solution – Watson. What if you take that 22,000 page book and you let Watson read it and then give advice? Let the computer figure it out. That is exactly what IBM has in mind now that is has purchased Promontory.
"Promontory, combined with IBM's deep industry expertise and Watson's cognitive capabilities, will directly address the massive operational effort and manual cost of constantly changing regulation and risk management requirements. With the completion of the acquisition, Promontory will help accelerate IBM's development of cognitive solutions for risk and compliance."
This is a huge and transformative acquisition that is based on Artificial Intelligence. It is a perfect match. Understanding 22,000 pages of regulation is good work for a computer.
Artificial intelligence is beginning to help all types of companies to improve efficiency and automate processes seen as repetitive. As more and more companies begin to utilize this technology, it has started to be seen as a replacement for certain industries like financial compliance.
Financial compliance is seen as a long ever changing system that is primarily a human driven, arduous process filled with stacks of paperwork. The IBM Watson Group will look to use the expertise of the 600 person Promontory Group to learn about compliance and the regulatory system. Promontory's professionals will help to train Watson, which will learn by ingesting regulatory information as it is created and through interaction in real-world applications.
The training will include solutions for tracking the changing regulatory obligations and solutions that address specific compliance needs. These needs include financial risk modeling, surveillance, insider threat, and financial crimes including counter fraud, anti-money laundering (AML) and Know Your Customer (KYC).
Training Watson can put those at Promontory in an awkward position, seeing that the machine they are working to train could be used to replace them in the near future. Allowing for Watson to learn these solutions will help a firm like Promontory understand what can be automated and made more efficient.
This transaction brings up the question of what jobs are under threat to artificial intelligence? Understanding what can be automated and what still needs a human role is currently the toughest questions facing firms and regulators. Can Watson learn enough and be intelligent enough to keep up with regulations that change quite often? How comfortable are the regulators with the concept of automation when it comes to something as important as compliance?
With the lengthy new rules causing headaches at financial firms, IBM believes Watson will help to ease the burden of dozens, if not hundreds of compliance officers hired since Dodd-Frank was enacted. As we alluded to earlier in the article, banks and other financial firms have had to hire an army of new officers to stay within the new bounds. Not only will Watson help to cut back on the new compliance teams, but having automation enacted will cut costs significantly and allow for firms to update internal systems and procedures quickly.
Since regulation has become more complicated and nuanced, IBM believes that human evaluation will not be able to keep up with the constant changes. Having artificial intelligence monitor changes and digest information at a significantly higher rate will allow for humans to focus on bigger picture items and leave the minutiae to Watson.
IBM Senior Vice President Bridget van Kralingen told the WSJ in September, "There is no way that professionals can keep up with critical information growing at these rates, Watson is going to learn by continuously ingesting this regulatory information as it is created."
The IBM, Promontory deal has the potential for enormous ramifications across the financial world. Compliance firms and regulators need to begin crafting a strategy for how to handle this coming change. As artificial intelligence gets smarter, does its application become wider or do regulators limit the uses of this technology. Another factor to consider is with a new administration coming in how will regulations change and what will happen to Dodd-Frank implementation.
There is a still a lot of unknowns when it comes to the use of artificial intelligence in financial services. Will this make some of the more inane yet required processes more efficient or will automation hurt the regulatory process which needs constant evaluation. As Watson learns the processes from Promontory we will begin to understand how the application is used. One thing is certain, automation is coming and the financial services industry will need to adapt in order to incorporate this new technology.
LendIt USA 2017 has a featured keynote with Brian Walter, Watson Global Industry Leader for Banking & Financial Markets at IBM's Watson Group that will focus on how financial firms are currently using artificial intelligence and what applications it can be used for in the coming years.